The puppy bowl is coming and this year, Pilots To The Rescue is part of the big game!
Tune in to Puppy Bowl XVIII, the 3-hour spectacular event that can be streamed on discovery+ and Animal Planet on Sunday, February 13 at 2 pm Eastern/11 am Pacific.
Cheer on the adoptable puppy players of TEAM RUFF and TEAM FLUFF as they give it their all to catch air-speed and take home this year's Chewy "Lombarky" trophy. Be sure not to miss the return of the Subaru of America, Inc. Pup Close and Personal segments that shine a light on adorable star athletes, including a special look at The Dogist (Elias Weiss Friedman) who teamed up with PTTR Top Dog Pilot Michael Schneider, to bring one incredible Dalmatian puppy, Pongo, on a flight from a Virginia shelter to New York City for Puppy Bowl XVIII.
According to Animal Planet, "As a member of Team Ruff, this dalmatian comes from Green Dogs Unleashed of Virginia. Being hearing impaired means Pongo has a heightened sense of smell and a nose for toys."
The Dogist/PTTR segment featuring Pongo is going to be fascinating, so tell your friends and be sure you don't miss this incredible event!
Pongo photo (above)) by Elias Weiss Friedman
On October 1st, we returned to Knoxville, TN where PTTR Top Dog Pilot Michael Schneider, accompanied by PTTR Executive Assistant Extraordinaire Brielle Petrella, who also volunteers for Amazing Mutts Puppy Rescue picked up 16 puppies and one adult dog in danger of being euthanized at various shelters in the area.
Our partners at Fi Dog Collars sent along a cameraman to grab some footage and Instagram stars Tinkerbelle and Belle (pictured above) were on hand to greet us at the airport.
October the red lab puppy, Arya a 6-month-old who was recovering from a nasty bout of mange, Toby a 7-month-old whose owner no longer wanted him, 2 heeler puppies – Saturn and Jupiter, 6 yellow lab puppies named after famous chefs – Gordon, Julia, Paula, Bobby, Emeril, and Guy – and 4 heeler puppies named after planets – Mercury, Venus, Neptune, Mars – have all now been adopted into happy, loving homes!
One very pregnant adult dog named Sahara joined us as well. She's tucked away comfortably in a foster home where she can deliver and raise her puppies, before finding a forever home of her own.
Enjoy the heartwarming photos in the video below as the puppies were adopted!
The American Society for the Prevention of Cruelty to Animals® (ASPCA®) was the first humane society to be established in North America and is, today, one of the largest in the world. Founded on the belief that animals are entitled to kind and respectful treatment at the hands of humans and must be protected under the law, the ASPCA is a national animal welfare organization with more than 2 million supporters across the country. So they know their stuff.  What are the top 10 reasons to adopt a shelter dog?
#1. You're Saving More Than One Life
#2. Unconditional Love! What Could Be Better
#3. Read the rest on the ASPCA website at 10 Reasons to Adopt a Shelter Dog | ASPCA
And then go adopt a shelter dog! Better yet – go adopt a shelter dog transported to safety by Pilots To The Rescue! #adoptdontshop
Photo: Dill, a Labrador Retriever mix. Check with A New Chance Animal Rescue for adoption information.
PTTR Featured in the Progress with Constantine & A New Chance Animal Rescue
We got some cool press from the awesome Kathy Shwiff in The Progress!  Thanks Kathy!
Having trouble viewing the photos?  Read it here.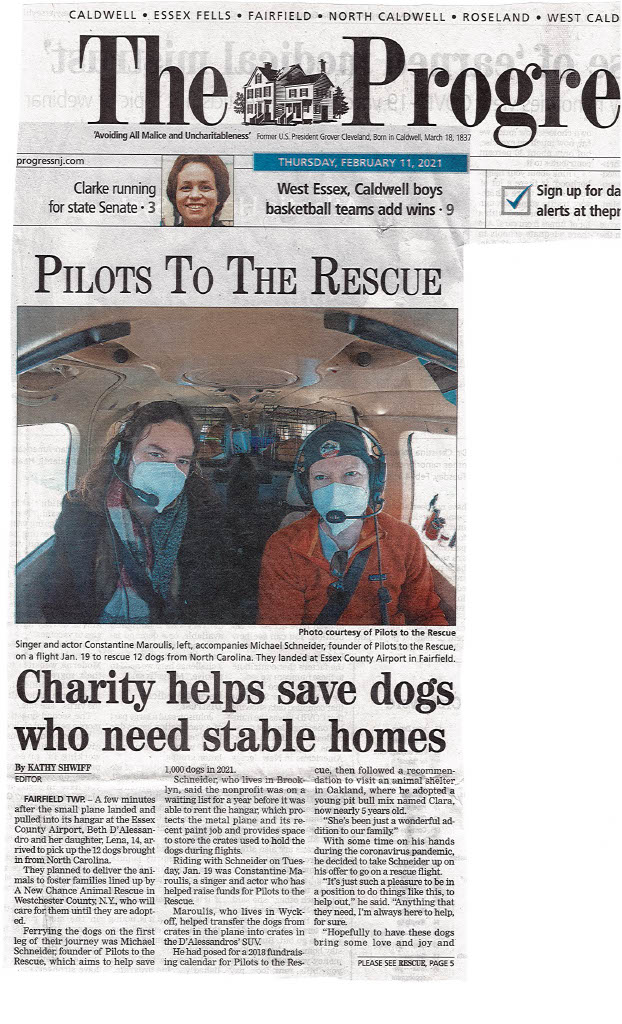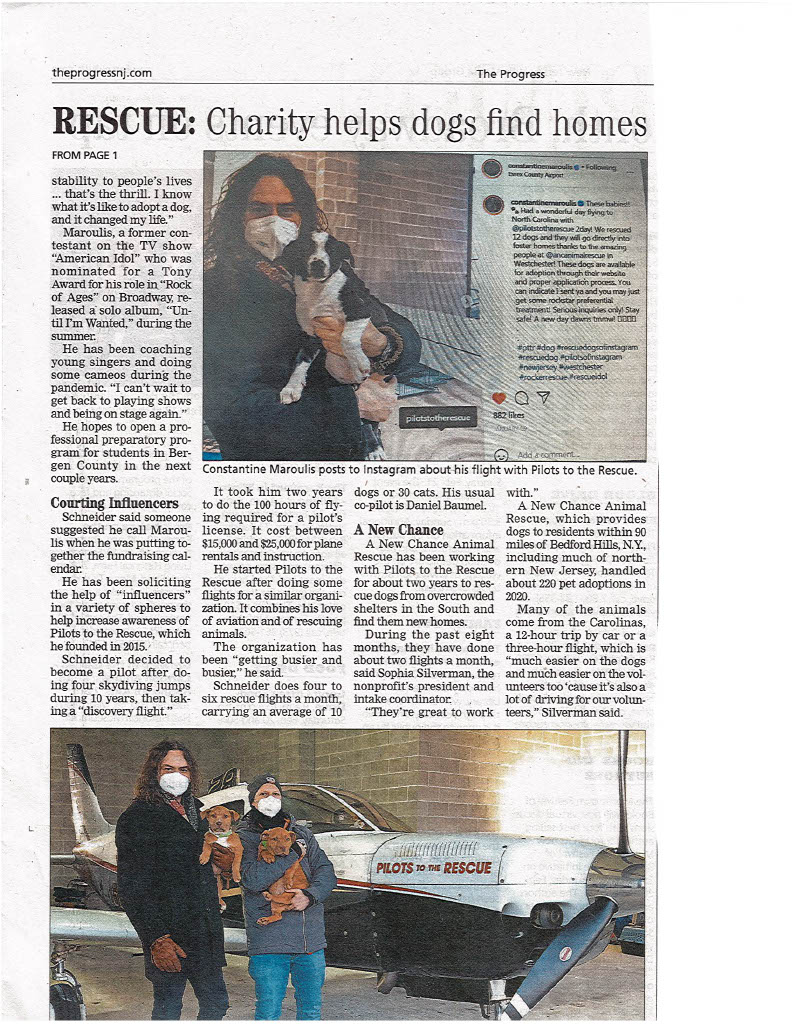 On January 16th, Pilots to the Rescue once again teamed up with our friends at A New Chance in Bedford Hills, NY. Two adult dogs, Willow and Scarlett, a beautiful one-eyed 8 month old lab pup named Rhett, and twelve ADORABLE 10-week old puppies and their mom Harley all arrived safely in New York and got checked into their new foster homes.
May 2020 Update – We're working on getting an update on this story for you – stay tuned!
[button link="https://www.pilotstotherescue.org/ways-to-donate/#iframe" type="icon"] Donate to help save more lives[/button]
PTTR Pilot John Doig met representatives from Palmetto Animal League at Ridgeland Airport in South Carolina early Tuesday morning. Together they loaded up the day's passengers. Two momma dogs and 14 puppies would all be saved from over-crowded shelters in the South where their fate was uncertain.
By mid- afternoon, John and his precious cargo arrived at Salisbury Regional Airport in Maryland. There he was met by our friends at the Ulster County SPCA for the road trip to New York where they were tucked in for the night. The next day they were given a clean bill of health by the SPCA veterinarian. They will be available for adoption once the puppies are old enough to be weaned and everyone is spayed or neutered.
Sixteen lives saved in one day by Pilots To The Rescue! We are thrilled to be a part of this effort, and look forward to even more flights in the near future.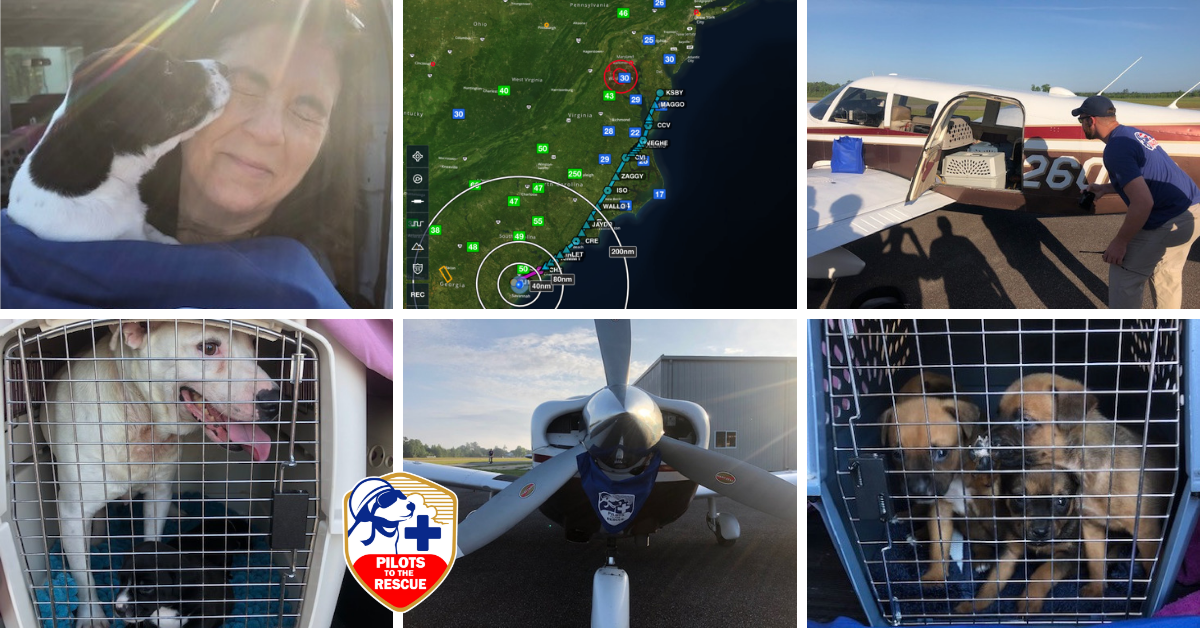 Clockwise from Top Left: A Palmetto Animal League foster says goodbye before loading a puppy on the plan, the flight path, loading up, puppies ready to fly, the plane, and mom and puppies on board.