Check us out in Go Magazine – the AAA magazine for the Carolinas!
Pilots To The Rescue is featured in the current issue of Go Magazine – AAA's official magazine for the Carolinas, and we couldn't be more thrilled.  Author Martin Rose wrote a fabulous piece that talks about the problem of pet overpopulation, the challenges we face as an organization, and how you can help.
Read it online now on the AAA Go Magazine website.
Remember that turtle we rescued? It was last December and a cold front had stranded hundreds of sea turtles along Cape Cod. The New England Aquarium was quickly overwhelmed. So the Sea Turtle Stranding and Disentanglement Coordinator for NOAA Fisheries reached out for help to get one of the turtles – a 31-pound Juvenile Loggerhead Sea Turtle known as 20-910-Cc – from Boston to Sea Turtle Recovery in New Jersey. Michael and Daniel dug the plane out of the snow (literally!) and completed the mission. Sea Turtle Recovery reported the next day that 20-910-Cc was on antibiotics but doing well.
That's the last we'd heard until we got this letter in the mail from NOAA thanking Pilots To The Rescue for our help. Turns out our buddy recovered and has now been released back into the wild!
What's there to do on a hot Saturday in August? Relax? Stay Cool? Or rescue dogs! Guess which one we did?
Six adorable dogs on borrowed time were recently saved from overcrowded shelters across the South by
A New Chance Animal Rescue
. Each was vaccinated, spayed or neutered, examined and got their health certificates.
On Saturday, the 22nd of August, they started their journey with a 115-mile ride, courtesy of Maverick Pet Transport & Rescue, from Southern Pines, NC to Rocky Mount, NC to meet PTTR's indispensable volunteer pilot Victor with his gorgeous jet.
An hour later, these six lucky pups were in New York where they were met by staff and volunteers from A New Chance Animal Rescue. From there, five of them went with the A New Chance team and were settled into foster homes where they would be cared for until adopted. The sixth, Daisy, had been pre-adopted through Maverick Pet Transport & Rescue and went directly to her new forever home!
Don't forget to choose PTTR when you shop at Amazon!
Just start at smile.amazon.com, log in, and choose Pilots To The Rescue as your charity of choice!
New to Amazon Smile? It's a great website operated by Amazon with the same products, prices, and shopping features as Amazon.com. The difference is that when you shop on AmazonSmile, the AmazonSmile Foundation will donate 0.5% of the purchase price of eligible products to the charitable organization of your choice. Visit smile.amazon.com and choose PTTR to help us keep the planes flying!
Remember when Woffle pledged to donate a bed to PTTR for every bed purchased on Giving Tuesday and throughout the month of December? They came through for us and the pets we transport in a big way, even delivering the beds to our hanger in person!
You can show your support for PTTR by patronizing those who support us. Check out the organic, easy to clean pet beds on their website.
Flashback to one of our more memorable – and biggest – rescues!
It was just before Christmas 2019 when we were able to rescue this 150 lb hunk of LOVE! He was surrendered from a family that needed to find him a home better suited for his size – and guess what? THEY DID!
Here is Apollo with his new mom! He got to skip the shelter and go straight to his fur-ever home.
[Note: normally we don't facilitate single-dog transports, but because of Apollo's size, we made a one-time exception].
If you'd like to help our pilots keep flying, we'd welcome your donations.
[button link="https://www.pilotstotherescue.org/ways-to-donate/#iframe" type="icon"] Donation online now[/button]
On January 16th, Pilots to the Rescue once again teamed up with our friends at A New Chance in Bedford Hills, NY. Two adult dogs, Willow and Scarlett, a beautiful one-eyed 8 month old lab pup named Rhett, and twelve ADORABLE 10-week old puppies and their mom Harley all arrived safely in New York and got checked into their new foster homes.
May 2020 Update – We're working on getting an update on this story for you – stay tuned!
[button link="https://www.pilotstotherescue.org/ways-to-donate/#iframe" type="icon"] Donate to help save more lives[/button]
Tickets to Tony Award winner Come From Away, a Broadway musical about the true story of a small town that welcomed the world, are on sale starting today, Friday, July 26! Set in the week following the September 11 attacks Come From Away tells the true story of what transpired when 38 planes were ordered to land unexpectedly in the small town of Gander, Canada. The show debuts in Philadelphia October 22 – November 3 as part of the Kimmel Center's Broadway Philadelphia 2019-20 season.
New this year, a portion of Come From Away ticket proceeds will be donated to help local area animal shelters through "Pilots To The Rescue", an organization that employs volunteers including airplane pilots, shelters, ground teams, and veterinarians to save potential pets facing euthanasia and give them a second chance through an advanced flight rescue system.
For locations and ticket information, visit https://comefromaway.com/tickets.php?content=tixtour
PTTR Pilot John Doig met representatives from Palmetto Animal League at Ridgeland Airport in South Carolina early Tuesday morning. Together they loaded up the day's passengers. Two momma dogs and 14 puppies would all be saved from over-crowded shelters in the South where their fate was uncertain.
By mid- afternoon, John and his precious cargo arrived at Salisbury Regional Airport in Maryland. There he was met by our friends at the Ulster County SPCA for the road trip to New York where they were tucked in for the night. The next day they were given a clean bill of health by the SPCA veterinarian. They will be available for adoption once the puppies are old enough to be weaned and everyone is spayed or neutered.
Sixteen lives saved in one day by Pilots To The Rescue! We are thrilled to be a part of this effort, and look forward to even more flights in the near future.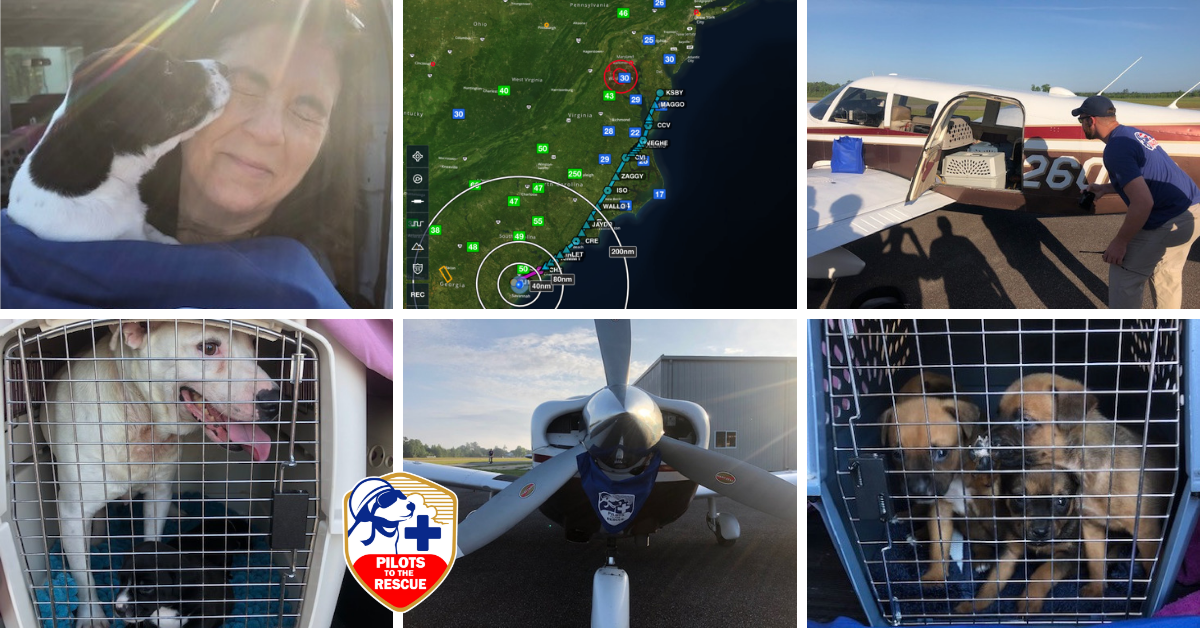 Clockwise from Top Left: A Palmetto Animal League foster says goodbye before loading a puppy on the plan, the flight path, loading up, puppies ready to fly, the plane, and mom and puppies on board.