On October 1st, we returned to Knoxville, TN where PTTR Top Dog Pilot Michael Schneider, accompanied by PTTR Executive Assistant Extraordinaire Brielle Petrella, who also volunteers for Amazing Mutts Puppy Rescue picked up 16 puppies and one adult dog in danger of being euthanized at various shelters in the area.
Our partners at Fi Dog Collars sent along a cameraman to grab some footage and Instagram stars Tinkerbelle and Belle (pictured above) were on hand to greet us at the airport.
October the red lab puppy, Arya a 6-month-old who was recovering from a nasty bout of mange, Toby a 7-month-old whose owner no longer wanted him, 2 heeler puppies – Saturn and Jupiter, 6 yellow lab puppies named after famous chefs – Gordon, Julia, Paula, Bobby, Emeril, and Guy – and 4 heeler puppies named after planets – Mercury, Venus, Neptune, Mars – have all now been adopted into happy, loving homes!
One very pregnant adult dog named Sahara joined us as well. She's tucked away comfortably in a foster home where she can deliver and raise her puppies, before finding a forever home of her own.
Enjoy the heartwarming photos in the video below as the puppies were adopted!
Pilots To The Rescue was honored recently to once again play a vital role in a historic effort to maintain the only wild population of the critically endangered American Red Wolf in the world.
Over two days, four adult red wolves from three managed care facilities were flown to North Carolina where they were released in a protected refuge. The collaborative effort is a partnership between the U.S. Fish & Wildlife Service, the Endangered Wolf Center, Wolf Conservation Center, and Wolf Haven International. This is the first release from managed care facilities since 1998.
Pilots To The Rescue Top Dog Pilot Michael Schneider met Wolf Conservation Center officials in New Jersey on the morning of April 28th. There, they boarded M2236 aka Deven (pictured above), who was born in New York and affectionately named by supporters of the Wolf Conservation Center. Deven was accompanied on the two-hour flight to North Carolina by Rebecca Bose, the Curator in charge of the well-being of all the Wolf Conservation Center's Ambassador and Species Survival Plan wolves.
Releasing animals is a conservation strategy that takes individual wolves bred and born in managed care and places them in their native range. Because the wild population of American red wolves is dangerously low, it is vital to place individuals of breeding age on the landscape to assist in the repopulation of the most endangered wolf species in the world. The wolves were introduced to their new home through a "soft release" process. A habitat surrounded by temporary fencing was installed and animals were placed inside to acclimate and bond. When the time is right, the fencing will be opened, allowing the red wolves to confidently enter their new home in the Wild.
This is the 3rd endangered red wolf PTTR has rescued. This one is truly historic because M2236 aka "Deven", born at the Wolf Conservation Center in 2018, will be released in the wild. Releases of this type require Federal court approval and only happen every few years.
The Red Wolf is the most endangered canid in the world, Before these wolves were released on April 30 and May 1 there were 10 known collared red wolves and an estimated 17-20 total red wolves in North Carolina.
Totally Epic Cat Rescue
On a recent Saturday, Pilots To The Rescue Top Dog Pilot Michael Schneider and co-pilot Daniel Baumel flew 850 miles round-trip to save 33 cats and kittens, including seven mini-panthers pictured below.
They met their feline passengers in Southern Pines, North Carolina:
All were originally strays, lost or unwanted and all needed the safety and comfort a loving home provides. All 33 safely made the trip to Danbury, Connecticut where they were transferred into the care of 
Cat Tales Rescue
 and 
Happy Tails Pet Rescue
.
Our totally epic rescue even made the news!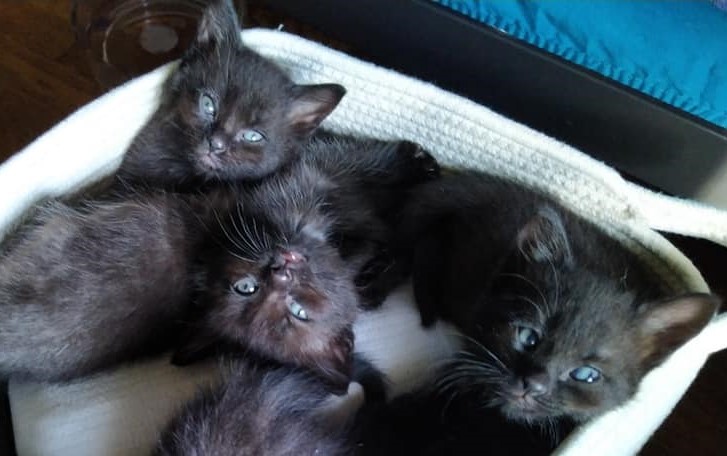 Update from Animal Rescue League of Greater Portland
In early March, Pilots To The Rescue Top Dog Pilot Michael Schneider, accompanied by actress and model Adrienne Lauren flew to Maryland where they met representatives from 
Pittsylvania Pet Center in Virginia
. From there, Michael and Adrienne, along with 18 cats and 1 dog made the 3-hour flight from Maryland to Maine where their precious cargo was delivered safely to our friends at 
Animal Rescue League of Greater Portland
.
We are proud to say that Willow, Smokey, Stellar, Shelly, Barbie, Conner, AJ, Hector, Helena, Burgundy, Justine, Pop, Maximillion, Dunkel, Citra, Butterscotch, Frances, Ferrett, Barbie, and Connor who needed eye surgery, as well as Ralph the dog have all been adopted by loving families.
Jazmin Ivy joins Pilots To The Rescue
In late February, Pilots To The Rescue Top Dog Pilot Michael Schneider was joined by Honduran-American model and one of New York City's most beautiful women Jazmin Ivy for a day-long round trip to bring 15+ dogs in need from North Carolina to A New Chance Animal Rescue in Bedford, NY.

From Jazmin, "What a great way to give back to the beautiful creatures that have filled our lives with joy and companionship. I'd like to help anyway I can. :)" We agree!



One-eyed kitty finds love and safety thanks to transport by PTTR
Cye started life homeless in Virginia – until a Good Samaritan took pity on her and helped her find shelter at the Pittsville Pet Center. But Pittsville Pet Center takes in over 1,500 pets a year. Sometimes they get overcrowded and that puts pets in danger – especially those that have special needs like Cye. But the staff there works hard to save as many as possible and one of the ways they do that is to partner with organizations like Animal Rescue League in Portland, Maine (ARLGP) and Animal Welfare Society (AWS) in West Kennebunk where animals often get adopted quickly.
Sounds simple enough, right? Not when you consider that Portland is a 12-hour, 800 mile drive from Pittsville. PTTR to the rescue! In January, Top Dog Pilot Michael Schneider and co-pilot Daniel Baumel took to the skies once again. Cye and 29 other cats were loaded into the new Pilots to the Rescue Piper PA-32R-301T for the 4-hour flight. By early afternoon, Cye and her friends were safe in Maine.
Once settled in at Animal Welfare Society, a comprehensive veterinary examination revealed that Cye wasn't missing an eye as originally thought, but had a tiny, non-functioning eye. It may have been caused by a birth defect, developmental, or due to injury or disease. It is not uncommon in cats, but requires surgery to prevent future infection, abscess or inflammation.
Otherwise healthy, Cye was scheduled for surgery. But before the big day came, she scored a new home. A loving family fell in love and adopted her on the spot!
The staff at AWS gave them all her medical records and explained the situation with her eye. Cye spent the next few days getting used to finally having a home, then had her surgery – paid for by AWS. She was able to recover in her now-familiar, loving, safe, home.  That's a long way from homeless and alone in Virginia and Pilots to the Rescue is proud to have played a part in her story.
PTTR Pilot John Doig met representatives from Palmetto Animal League at Ridgeland Airport in South Carolina early Tuesday morning. Together they loaded up the day's passengers. Two momma dogs and 14 puppies would all be saved from over-crowded shelters in the South where their fate was uncertain.
By mid- afternoon, John and his precious cargo arrived at Salisbury Regional Airport in Maryland. There he was met by our friends at the Ulster County SPCA for the road trip to New York where they were tucked in for the night. The next day they were given a clean bill of health by the SPCA veterinarian. They will be available for adoption once the puppies are old enough to be weaned and everyone is spayed or neutered.
Sixteen lives saved in one day by Pilots To The Rescue! We are thrilled to be a part of this effort, and look forward to even more flights in the near future.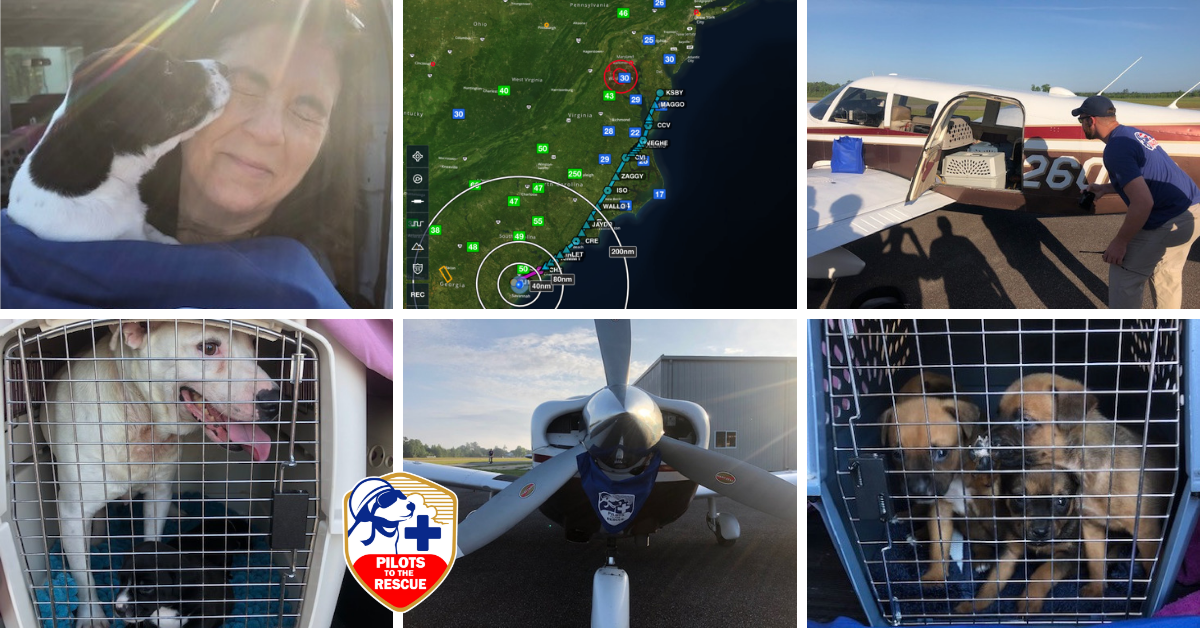 Clockwise from Top Left: A Palmetto Animal League foster says goodbye before loading a puppy on the plan, the flight path, loading up, puppies ready to fly, the plane, and mom and puppies on board.