[et_pb_section fb_built="1″ _builder_version="3.22″][et_pb_row _builder_version="3.25″ background_size="initial" background_position="top_left" background_repeat="repeat"][et_pb_column type="4_4″ _builder_version="3.25″ custom_padding="|||" custom_padding__hover="|||"][et_pb_text _builder_version="4.9.7″ background_size="initial" background_position="top_left" background_repeat="repeat" link_option_url="https://njshelter.org/how-pets-can-help-you-lose-that-covid-19-weight-and-reduce-stress/" link_option_url_new_window="on"]Our friends at Mount Pleasant Animal Shelter in New Jersey recently posted an article we thought our subscribers would enjoy. It's called "How Pets Can Help You Lose That COVID-19 Weight and Reduce Stress."
Spoiler Alert: They are great motivators!
Read the entire article online at NJShelter.org. [/et_pb_text][/et_pb_column][/et_pb_row][/et_pb_section]
PTTR Founder Featured in UDaily Online Magazine
"Dog is his co-pilot" in this month's UDaily, the online magazine for the University of Delaware, profiles PTTR founder and Top Dog Pilot Michael Schneider, a 1998 graduate of the University.
"It makes us all better people to help those in need," says Schneider, "no matter how many legs they have."
Read the entire article online.
Technology that helps Rescue
Thanks to new technology, Pilots to the Rescue now has more ways to donate than ever before! You can donate online with a credit card, or via ACH or PayPal, make a gift using Venmo or Zelle, or scan to pay with the Cash App. And don't worry, you can still call in your donation to +1 212-404-6936 or download our donation form and mail it in!
Your donations help us continue saving lives!
Totally Epic Cat Rescue
On a recent Saturday, Pilots To The Rescue Top Dog Pilot Michael Schneider and co-pilot Daniel Baumel flew 850 miles round-trip to save 33 cats and kittens, including seven mini-panthers pictured below.
They met their feline passengers in Southern Pines, North Carolina:
All were originally strays, lost or unwanted and all needed the safety and comfort a loving home provides. All 33 safely made the trip to Danbury, Connecticut where they were transferred into the care of 
Cat Tales Rescue
 and 
Happy Tails Pet Rescue
.
Our totally epic rescue even made the news!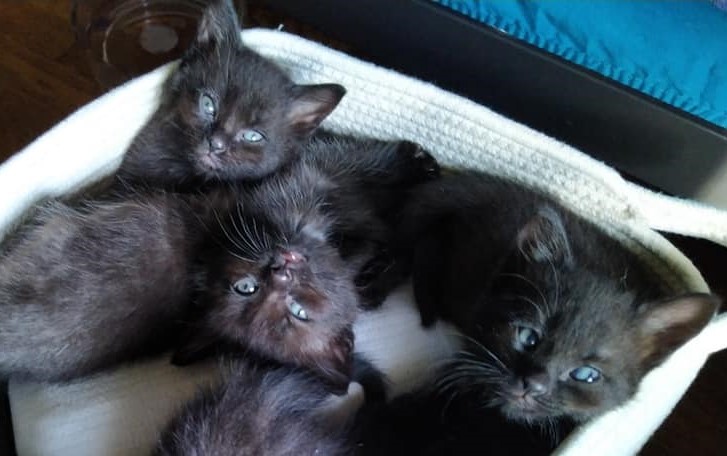 Pilots to the Rescue earns GuideStar Platinum Level Seal of Transparency
Pilots to the Rescue recently earned the GuideStar 2021 Platinum Seal of Transparency! Now, everyone can see the strategy and achievements we've worked so hard for.
"GuideStar Nonprofit Profiles help the sector take a leap forward from data and information about charities to powerful knowledge and insight to help us make informed decisions." —Victoria Vrana, Senior Program Officer, The Bill & Melinda Gates Foundation
Check out our updated profile on GuideStar today!
PTTR Featured in the Progress with Constantine & A New Chance Animal Rescue
We got some cool press from the awesome Kathy Shwiff in The Progress!  Thanks Kathy!
Having trouble viewing the photos?  Read it here.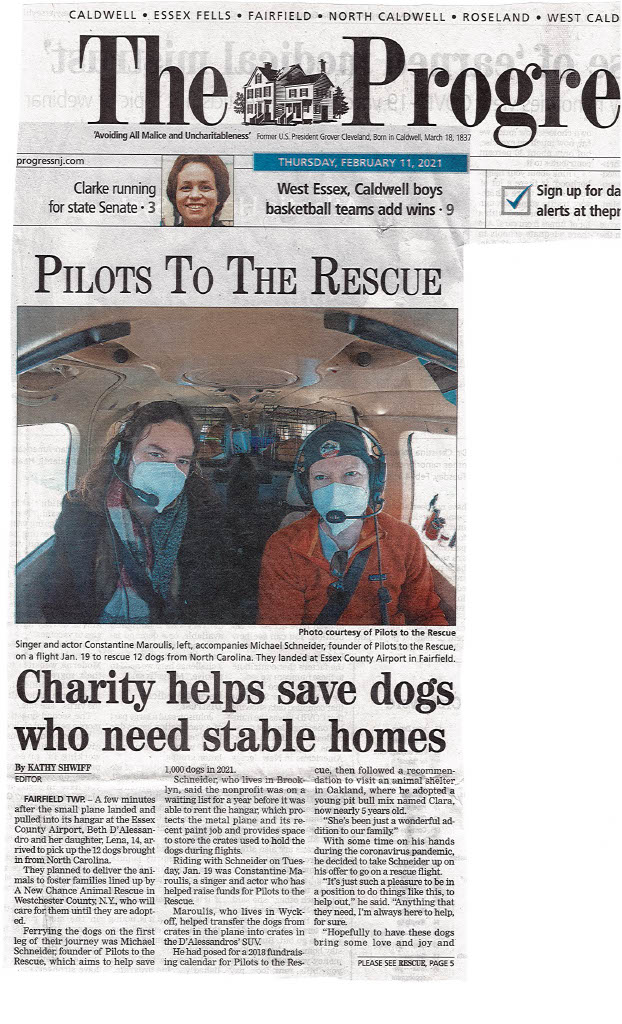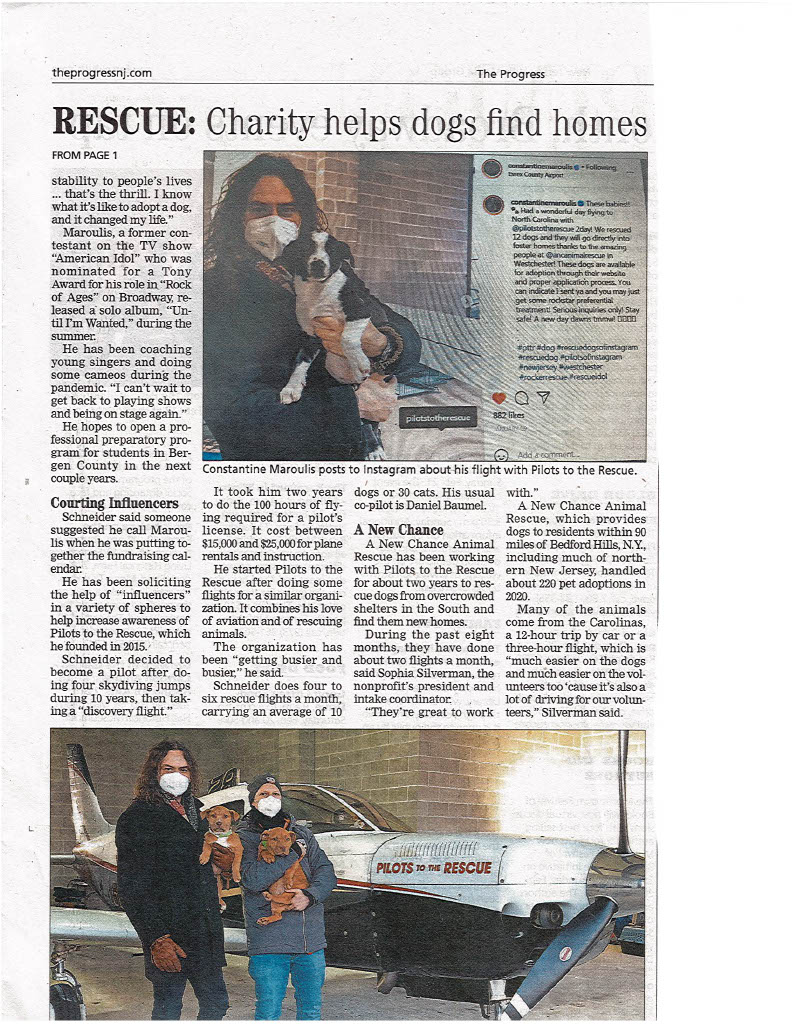 [et_pb_section admin_label="section"]
[et_pb_row admin_label="row"]
[et_pb_column type="4_4″][et_pb_text admin_label="Text"]
On a sunny Tuesday in January, Pilots to the Rescue Top Dog Pilot Michael Schneider took off headed for North Carolina to pick up a dozen deserving canines in need of help. He was accompanied on this trip by former American Idol contestant and Tony nominee Constantine Maroulis. In North Carolina, Michael and Constantine met up with Maverick Rescue & Transport to pick up their passengers – all homeless with few options – for the 2-1/2 hour flight to safety in New Jersey with representatives from A New Chance Animal Rescue.
Of the 12 passengers, Izzy, Genevia, Berlin, Lisbon, Vienna, Dublin, Kiev, Oslo, and Tallinn have all been adopted and are already living life to the fullest with their new families. But George, Rosie, and Sadie still need someone to love. If you're in the New York area, won't you consider opening your home to one of these adorable pups?
George (left) is the cutest 10 week old All American blend – part Golden, part Shar Pei and part Pit. He is intelligent, eager to please and a quick learner. George's sister has already been adopted, and George is waiting his turn. Find out more about George on the A New Chance website.
Rosie (center) is an adorable 8 month old Terrier mix. Rosie suffered terribly with "puppy mange" and severe secondary skin infections from being left untreated. She is healing nicely, almost finished her medication and her fur is growing in beautifully. Rosie is available for adoption, too.
Sadie (right) is a 2 year old, badly underweight and malnourished hound mix. A New Chance reports that her appetite is good and she is currently eating three meals a day in her foster home. She has already gained 8 lbs! Sadie is available for adoption. Find out more from the A New Chance website.

[/et_pb_text][/et_pb_column]
[/et_pb_row]
[/et_pb_section]
The Progress News' reporter Kathy Shwiff profiled Pilots to the Rescue's latest rescue mission with celebrity co-pilot, former American Idol contestant and Tony nominee Constantine Maroulis. PTTR flew 12 dogs to safety at A New Chance Animal Rescue in Bedford Hills, NY.
[button link="https://www.newjerseyhills.com/the_progress/news/pilots-to-the-rescue-helps-save-dogs-who-need-homes/article_fb9f1a17-ffc2-5ac5-995d-eeb7ea37c0af.html" type="big" newwindow="yes"] Read the Editor's Choice Article[/button]
One good thing about 2020 – the CARES Act
Deduction Expires 12/31/2020
On March 27, 2020, the CARES Act was signed into law. Unlike 2019, when your charitable contributions were generally useless from a tax perspective, the CARES Act changed that. How?
1. Even if you don't itemize, you may be able to deduct up to $300 in annual charitable contributions this year. It is an "above the line" adjustment to income that will reduce a donor's adjusted gross income (AGI), and thereby reduce taxable income.
2. Even individuals and corporations that itemize can benefit. Individuals can elect to deduct donations up to 100% of their 2020 AGI (up from 60% previously). Corporations may deduct up to 25% of taxable income, up from the previous limit of 10%. Act now!! The CARES Act may not be extended to 2021.
'Tis the Season to Eat, Drink & Be Merry!
OneHope award-winning wines is donating 35% to PTTR

\\\

OneHope is selling award-winning wine on a mission to change the world, and they've invited Pilots to the Rescue to team up with them. OneHope is a great way to give back. Their Wine Spectator' award-winning wines are made by some of the most acclaimed winemakers in the industry, and the best part – they're donating 35% of each purchase made through the Pilots To The Rescue fundraiser to help us fly more pets to safety!

Plus, when you order the "Pinot for Paws Woof! Gift Set", OneHope donates an additional portion of the proceeds to benefit pet adoptions. There's no better time to #ShopForACause and eat, drink, and be merry!