On July 28th, a dozen kittens took to the skies for a life-saving flight from Virginia to New Hampshire. They were stewarded by Pilots To The Rescue Top Dog Pilot Michael Schneider, Co-Pilot Daniel Baumel, and professional make-up artist, influencer, and animal lover 
Sasha Baez
.
The 12 kittens, from 
Purrfect Hearts Cat Rescue
in North Carolina, made the 950-mile journey to the welcoming arms of new families in New Hampshire. We hope you enjoy the video from the rescue and our slideshow below of some of the kitten's happy in their new homes!
Pilots To The Rescue in People Magazine!
If you're a fan of People Magazine, (and who isn't?) you'll love this new article by Kelli Bender currently featured in the online magazine's digital issue about a recent Pilots To The Rescue mission that saved fifty-one cats and kittens!  Read all about this life-saving mission and see the photos online at people.com.
Check us out in Go Magazine – the AAA magazine for the Carolinas!
Pilots To The Rescue is featured in the current issue of Go Magazine – AAA's official magazine for the Carolinas, and we couldn't be more thrilled.  Author Martin Rose wrote a fabulous piece that talks about the problem of pet overpopulation, the challenges we face as an organization, and how you can help.
Read it online now on the AAA Go Magazine website.
Technology that helps Rescue
Thanks to new technology, Pilots to the Rescue now has more ways to donate than ever before! You can donate online with a credit card, or via ACH or PayPal, make a gift using Venmo or Zelle, or scan to pay with the Cash App. And don't worry, you can still call in your donation to +1 212-404-6936 or download our donation form and mail it in!
Your donations help us continue saving lives!
Totally Epic Cat Rescue
On a recent Saturday, Pilots To The Rescue Top Dog Pilot Michael Schneider and co-pilot Daniel Baumel flew 850 miles round-trip to save 33 cats and kittens, including seven mini-panthers pictured below.
They met their feline passengers in Southern Pines, North Carolina:
All were originally strays, lost or unwanted and all needed the safety and comfort a loving home provides. All 33 safely made the trip to Danbury, Connecticut where they were transferred into the care of 
Cat Tales Rescue
 and 
Happy Tails Pet Rescue
.
Our totally epic rescue even made the news!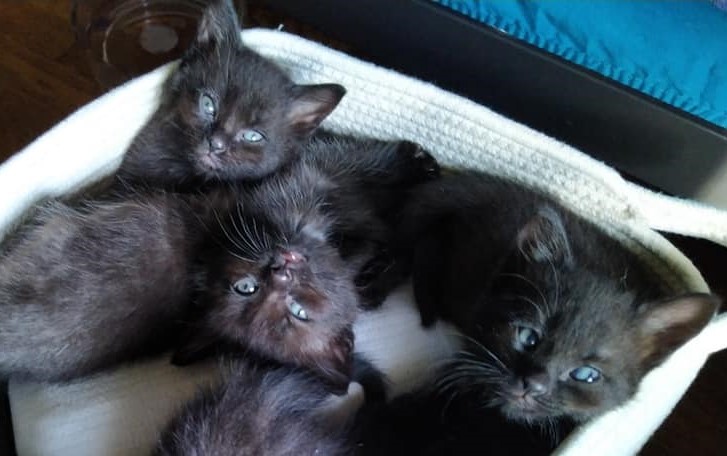 One-eyed kitty finds love and safety thanks to transport by PTTR
Cye started life homeless in Virginia – until a Good Samaritan took pity on her and helped her find shelter at the Pittsville Pet Center. But Pittsville Pet Center takes in over 1,500 pets a year. Sometimes they get overcrowded and that puts pets in danger – especially those that have special needs like Cye. But the staff there works hard to save as many as possible and one of the ways they do that is to partner with organizations like Animal Rescue League in Portland, Maine (ARLGP) and Animal Welfare Society (AWS) in West Kennebunk where animals often get adopted quickly.
Sounds simple enough, right? Not when you consider that Portland is a 12-hour, 800 mile drive from Pittsville. PTTR to the rescue! In January, Top Dog Pilot Michael Schneider and co-pilot Daniel Baumel took to the skies once again. Cye and 29 other cats were loaded into the new Pilots to the Rescue Piper PA-32R-301T for the 4-hour flight. By early afternoon, Cye and her friends were safe in Maine.
Once settled in at Animal Welfare Society, a comprehensive veterinary examination revealed that Cye wasn't missing an eye as originally thought, but had a tiny, non-functioning eye. It may have been caused by a birth defect, developmental, or due to injury or disease. It is not uncommon in cats, but requires surgery to prevent future infection, abscess or inflammation.
Otherwise healthy, Cye was scheduled for surgery. But before the big day came, she scored a new home. A loving family fell in love and adopted her on the spot!
The staff at AWS gave them all her medical records and explained the situation with her eye. Cye spent the next few days getting used to finally having a home, then had her surgery – paid for by AWS. She was able to recover in her now-familiar, loving, safe, home.  That's a long way from homeless and alone in Virginia and Pilots to the Rescue is proud to have played a part in her story.
500 Miles with Cheryl Martinez – 19++++ Pets Saved!
In early February, Pilots to the Rescue Top Dog Michael Schneider and co-pilot Cheryl Martinez® an American Entertainer & Health Coach from NYC, made the now-familiar run from 
Pittsylvania Pet Center
, an overly full municipal shelter in Chatham, Virginia to 
Animal Rescue League of Greater Portland
. They made the 500-mile flight in a little over three hours saving a whopping 5 dogs and 14 cats.
Our friends at Animal Rescue League of Greater Portland report that of the 14 cats on the flight, Akira, Yukio, Espeon, Jean Simmon, Carmel, Doris Day, Merlin, Don Henley, Garfield, Blaziken, and Ollie are all already adopted! Amoonguss and Arbok are still to young but are thriving in foster care. Snoopy surprised everyone with a totally unexpected pregnancy, and she is also in a foster home where she can deliver her precious kittens in a safe, warm, loving environment. Of the 5 dogs who made the trip, Woody and Tinker Bell are adopted, Shadow and Holly are spoken for, but Bubbles (right) is still available.
Bubbles is a handsome two year old Rottweiler mix who is super smart and enjoys being busy. His favorite activities are long walks in the woods and on the beach, feeder puzzles and playing fetch. If you love big, happy dogs, find our more about 
Bubbles on the ARL website
.
Cats Fly, Too – Part II with Nicole Patrick
Just a week after Pilots to the Rescue and former American Idol contestant and Tony nominee 
Constantine Maroulis
 saved a dozen dogs from an uncertain future, PTTR Top Dog Michael Schneider and singer, songwriter, actress, and animal activist Nicole Patrick jumped into action to save ten fabulous felines, flying them 205 miles from 
Carolina Cat Rescue
 in Raleigh, North Carolina to the waiting arms of 
Happy Tails in New Hampshire
.
It was a cold and overcast day for the 1 hour and 10 minute flight, but no one complained – not too much anyway. They are cats, after all, and not afraid to make their opinions known to one and all!
Early one Saturday morning in January, Pilots to the Rescue Top Dog Pilot Michael Schneider and co-pilot Daniel Baumel took to the skies headed for St. Mary's County Regional Airport in California, Maryland. There they met Glori and Christine from Pittsylvania Pet Center and THIRTY (yes 30!) adorable, adoptable felines in need of homes.
As you can see from the video below, the 30 cats were loaded into the new Pilots to the Rescue Piper PA-32R-301T for the 4+ hour flight to Maine. Touching down shortly after 2 p.m., the PTTR team quickly met up with the representatives from the Animal Refuge League of Portland who had been anxiously awaiting their arrival. By late Saturday night all 30 were settled in at ARLPG and getting some much-needed rest after their incredible journey. It won't be long before they're meeting the new families whose homes they call their own.
For information on adopting, contact Animal Rescue League of Greater Portland via their website or find them on Facebook.  Some of the cats were transferred to the Animal Welfare Society of Kennebuck, Maine.
The tireless researchers at We Love Cats & Kittens recently took a look at a bunch of fun facts about cats and have tirelessly compiled a list of 165 seemingly random facts about cats that will will blow your mind.
Cat lovers will thoroughly enjoy these amazing cat facts, and even non-cat-lovers may glean a new appreciation for our fabulous felines.
Yes, there really are 165 and you can find them on the We Love Cats & Kittens website.