From Athens, Texas to just outside Washington, DC would have been a 20-hour, 1,300-mile road trip for 16 deserving dogs, but National Mutt Day (July 31) was their lucky day as Pilots To The Rescue stepped in to speed up their journey to safety.
Originating with the 
Humane Society of Cedar Creek
 in Tool, Texas, and 
Athens Animal Rescue Shelter
in Athens, Texas, the team from Athens met our volunteer pilots at the southern border of Virginia. There Fluffy the Great Pyrenees, Hayes, an abandoned Mountain Cur, young Shepherd mixes Cornel and Calypso, a German Shepherd named Dana and a Chihuahua called Chatita, Lab mix puppies Charlie and Chantal, Collie-mix puppies Gage, Giovanni, Gabe, and Gabriel, All American Mutts Garbanzo and Mung, and two little red hounds, Yoda and Yogi boarded the Pilots To The Rescue plane, piloted by Top Dog Pilot Michael Schneider and Co-Pilot Daniel Baumel. A few hours later, they arrived in Manassas where they received a warm welcome from dozens of foster families from 
To The Rescue
, a rescue group located in the Washington, DC Metro Area.
The volunteers at To The Rescue (not affiliated with Pilots To The Rescue) are dedicated to saving the lives of cats and dogs from over-crowded shelters in North Carolina, ​South Carolina, Georgia, West Virginia, and Texas. All 16 dogs have been adopted into loving homes.
If you're considering adopting a new family member, check with our destination shelters indicated by * on the
Pilots To The Rescue website
today.
On July 28th, a dozen kittens took to the skies for a life-saving flight from Virginia to New Hampshire. They were stewarded by Pilots To The Rescue Top Dog Pilot Michael Schneider, Co-Pilot Daniel Baumel, and professional make-up artist, influencer, and animal lover 
Sasha Baez
.
The 12 kittens, from 
Purrfect Hearts Cat Rescue
in North Carolina, made the 950-mile journey to the welcoming arms of new families in New Hampshire. We hope you enjoy the video from the rescue and our slideshow below of some of the kitten's happy in their new homes!
The American Society for the Prevention of Cruelty to Animals® (ASPCA®) was the first humane society to be established in North America and is, today, one of the largest in the world. Founded on the belief that animals are entitled to kind and respectful treatment at the hands of humans and must be protected under the law, the ASPCA is a national animal welfare organization with more than 2 million supporters across the country. So they know their stuff.  What are the top 10 reasons to adopt a shelter dog?
#1. You're Saving More Than One Life
#2. Unconditional Love! What Could Be Better
#3. Read the rest on the ASPCA website at 10 Reasons to Adopt a Shelter Dog | ASPCA
And then go adopt a shelter dog! Better yet – go adopt a shelter dog transported to safety by Pilots To The Rescue! #adoptdontshop
Photo: Dill, a Labrador Retriever mix. Check with A New Chance Animal Rescue for adoption information.
Special Mission: Species Survival
In addition to flying dogs and cats to safety, we sometimes help transport wildlife as well. That was the case in late July, when we helped the Niabi Zoo's conservation program by transporting two baby Fennec Foxes – Bitti and his brother Bikku. The transfer was done at the recommendation of the Fennec Fox Species Survival Program, for the purpose of sustaining Fennec Fox captive populations and spreading the educational messaging of this incredible species.
PTTR Pilot Wes Kautzmann flew from Elkhart, Indiana to Moline, Illinois to pick Bitti and Bikku up from their caretakers at Niabi Zoo and fly them 1,100+ miles to Ellenville, New York. There they were met by Animal Embassy Founder Chris Evers. The next morning little Bitti continued on to Buttonwood Zoo in Massachusetts.
The flight cut several hours off the duration of their trip and was a huge improvement over flying cargo from a safety and comfort standpoint. "Flying animals or transferring in general is always a stress filled process" said Niabi Zoo Assistant Director Tammy Schmidt, "however having the honor of flying our little kits with Pilots to the Rescue was quite a relief. Thank you for this smooth transition for the boys."
These two adorable foxes will both become Animal Ambassadors – Bitti in Massachusetts and Bikku in Connecticut, helping to educate and inspire society to protect wildlife and wild places and helping the public learn about the importance of Species Survival Plans.
Remember that turtle we rescued? It was last December and a cold front had stranded hundreds of sea turtles along Cape Cod. The New England Aquarium was quickly overwhelmed. So the Sea Turtle Stranding and Disentanglement Coordinator for NOAA Fisheries reached out for help to get one of the turtles – a 31-pound Juvenile Loggerhead Sea Turtle known as 20-910-Cc – from Boston to Sea Turtle Recovery in New Jersey. Michael and Daniel dug the plane out of the snow (literally!) and completed the mission. Sea Turtle Recovery reported the next day that 20-910-Cc was on antibiotics but doing well.
That's the last we'd heard until we got this letter in the mail from NOAA thanking Pilots To The Rescue for our help. Turns out our buddy recovered and has now been released back into the wild!
Pilots To The Rescue was honored recently to once again play a vital role in a historic effort to maintain the only wild population of the critically endangered American Red Wolf in the world.
Over two days, four adult red wolves from three managed care facilities were flown to North Carolina where they were released in a protected refuge. The collaborative effort is a partnership between the U.S. Fish & Wildlife Service, the Endangered Wolf Center, Wolf Conservation Center, and Wolf Haven International. This is the first release from managed care facilities since 1998.
Pilots To The Rescue Top Dog Pilot Michael Schneider met Wolf Conservation Center officials in New Jersey on the morning of April 28th. There, they boarded M2236 aka Deven (pictured above), who was born in New York and affectionately named by supporters of the Wolf Conservation Center. Deven was accompanied on the two-hour flight to North Carolina by Rebecca Bose, the Curator in charge of the well-being of all the Wolf Conservation Center's Ambassador and Species Survival Plan wolves.
Releasing animals is a conservation strategy that takes individual wolves bred and born in managed care and places them in their native range. Because the wild population of American red wolves is dangerously low, it is vital to place individuals of breeding age on the landscape to assist in the repopulation of the most endangered wolf species in the world. The wolves were introduced to their new home through a "soft release" process. A habitat surrounded by temporary fencing was installed and animals were placed inside to acclimate and bond. When the time is right, the fencing will be opened, allowing the red wolves to confidently enter their new home in the Wild.
This is the 3rd endangered red wolf PTTR has rescued. This one is truly historic because M2236 aka "Deven", born at the Wolf Conservation Center in 2018, will be released in the wild. Releases of this type require Federal court approval and only happen every few years.
The Red Wolf is the most endangered canid in the world, Before these wolves were released on April 30 and May 1 there were 10 known collared red wolves and an estimated 17-20 total red wolves in North Carolina.
Totally Epic Cat Rescue
On a recent Saturday, Pilots To The Rescue Top Dog Pilot Michael Schneider and co-pilot Daniel Baumel flew 850 miles round-trip to save 33 cats and kittens, including seven mini-panthers pictured below.
They met their feline passengers in Southern Pines, North Carolina:
All were originally strays, lost or unwanted and all needed the safety and comfort a loving home provides. All 33 safely made the trip to Danbury, Connecticut where they were transferred into the care of 
Cat Tales Rescue
 and 
Happy Tails Pet Rescue
.
Our totally epic rescue even made the news!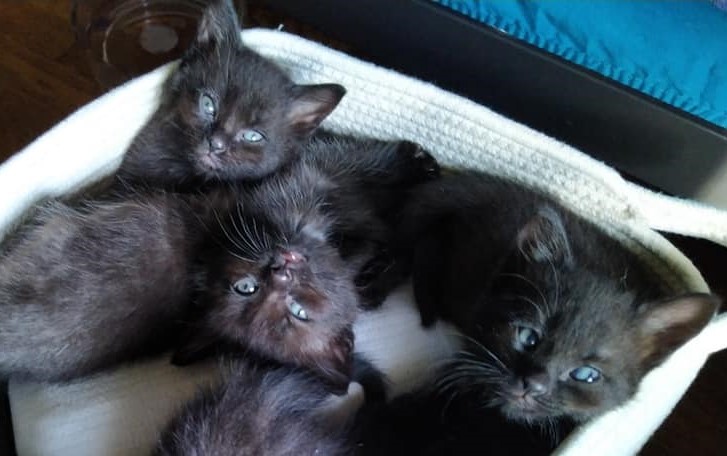 Dogist Founder helps PTTR save 18 Dogs!
Last Friday, Pilots To The Rescue Top Dog Pilot Michael Schneider and dog photographer and 
Dogist
 founder Elias Friedman flew over 1,000 miles roundtrip from New Jersey to North Carolina and back. In North Carolina they met 
Maverick Pet Transportation
with the day's passengers – 18 dogs in need of rescue.
Charlie, Finn, Hannah, Garbanzo, Isabella, Ted, Time, Tara, Carson, Carly, a family of two Chihuahuas and six hound mix puppies got a first-class, 2-1/2 hour rescue ride to Caldwell, New Jersey, and into the waiting arms of our friends at
A New Chance Animal Rescue
.
Some are available now, while others are still settling in and getting any medical needs taken care of:
Finn – a stunning Shepherd mix (maybe Husky?) is available now and Charlie, a sweet, young black lab mix with some stories to tell, will be available soon as well.
Ted & Tom are baby-faced 8 week old black Lab mixes. Tom is available now and Ted will be soon.
Tara, a cute little brown Shepherd mix puppy is also available now.
Carson & Carly are super cute fluffy shepherd mix puppies. Carson is spoken for and Carly will be available later this week.
Son & Daughter are 1 year old Chihuahuas. Daughter has an adoption pending while Son will stay in foster for a while. He has a congenital defect with his front legs that doesn't seem serious but will require some additional veterinary investigation.
Six snuggly little Hound mix puppies in a rainbow of colors. One is already spoken for and the rest will be available this week.
Garbanzo, a beagle mix has an adoption pending
Isabella, a 50 lb bulldog is available now
Hannah, a small Rottweiller mix, is also available now.
Jazmin Ivy joins Pilots To The Rescue
In late February, Pilots To The Rescue Top Dog Pilot Michael Schneider was joined by Honduran-American model and one of New York City's most beautiful women Jazmin Ivy for a day-long round trip to bring 15+ dogs in need from North Carolina to A New Chance Animal Rescue in Bedford, NY.

From Jazmin, "What a great way to give back to the beautiful creatures that have filled our lives with joy and companionship. I'd like to help anyway I can. :)" We agree!



17 Dogs Saved with model, dancer, actress and casting director Savannah Vinson
On a cold and snowy Saturday in late February, Pilots To The Rescue Top Dog Pilot Michael Schneider and co-pilot Daniel Baumel flew from New Jersey to North Carolina, accompanied by model, dancer, actress, and casting director Savannah Vinson.
Savannah was raised on a farm where they had several rescued dogs and cats, and she generously agreed to come along on the flight to help raise awareness of the work we are doing.
In North Carolina, the team picked up ten homeless adult dogs, three Cattle Dog/Heeler mix puppies from an overwhelmed shelter in Georgia, four 3 month old Heeler/Husky mixes who were found abandoned and tied up outdoors in South Carolina, and a 4 month old German Shepherd rescued from an irresponsible breeder.
The nearly 300 mile return flight culminated in safety in New Jersey with our new partners at 
Home For Good Dog Rescue
, a foster-home based non-profit. Each and every one has now been adopted!