As snuggly as they may be, cats are notoriously curious creatures, and preparing your space for the arrival of your new furry friend is more than just a new litter box and some toys. From researching countless articles on the web to asking friends and local shelters for advice, there's still plenty to consider. So, where's a new cat parent to begin?
Whether you're renting an apartment in New York or downsizing to a condo in Miami, knowing how to properly cat-proof your space will ensure your new furry roommate stays happy and healthy. To help you get started, Redfin reached out to us and other experts for our advice on how to make your space as safe and inviting as possible. Read on to find out how.
How to Catify Your Apartment: Expert-Approved Tips and Tricks to Transform Your Space into the Ultimate Catopia
The Animal Rescue Professionals Association is a membership organization formed by a group of animal rescue professionals with more than 40 years of experience in the industry. The recently featured Pilots to the Rescue's Top Dog Pilot Michael Schneider in their "Profiles in Animal Rescue" recognizing him as someone who has had a significant impact on animal rescue by contributing their professional experience.
To read the article on Animal Rescue Professionals, Click Here
Michael is an animal rescue pilot who started flying planes about five years ago, and began volunteering his talents by flying rescue animals in March of 2015. He has completed flights that have taught him how to make things go as smoothly as possible, and one rescue even ended up with a dog adoption by a celebrity! Pilots to the Rescue's mission is to save potential pets facing euthanasia by flying them to safety using an advanced rescue flight system.
Q: If you could be any animal, what would you be and why?
"I think I would be a dog in a loving home. They seem to have it the best in this country."
Q: What are some supplies that you always bring with you on a flight?
"I always bring calming treats just in case, because often times when you get animals that have been flown from other locations or a car, they can get a little rambunctious. I also have this high-density nutrition paste, like a vitamin gel, because you can't give dogs a lot food when you're transporting them, but sometimes they crash and you've got to give them a little something."
Q: Is there a particular flight that stands out to you?
"I think one of the very first ones I did, we rescued ditch puppies that came from North Carolina. There was a litter of them and we really loaded up the plane, and it was one of the very first ones I had done so it was very rewarding. I've also transported a dog that had Cerebral Palsy and a family ended up fostering that dog.
I also ended up rescuing a dog that was adopted by a celebrity. There's a series called Orange Is The New Black, and one of the actors, Jackie Cruz (she's 'Flaca' in the Latino Gang on the show), adopted one of the dogs I ended up rescuing."
Q: Are there any challenges you have faced?
"The hardest part really is loading them (the animal) in the plane. The planes are small, four-seaters and it's like playing Tetris. Generally we don't like to use crates, but inevitably, you'll have an animal that just doesn't get along or is injured, and you'll need to isolate them. Usually we'll deconstruct the crates because they're quite large and then we'll reconstruct them in the baggage compartment because they won't fit through the baggage door. Then we'll put the animal through the baggage door because usually the crate's too big, but the animal will fit through. I prefer to tether the dogs which is what we usually do in the backseat- it's just easier than dealing with a crate."
Q: What does a typical flight look like for you?
"Typically a flight involves a relay with additional pilots, and it's usually not just one pilot because the distances are just too great to drive. There's a good deal of coordination between the origin shelter and the destination, to make sure that they have all of the paperwork and things like that. If you are relaying with other pilots, you text message them and just say 'hey, I'm departing now and my ETA is such and such. While you're sitting on the ground, the dogs are barking and they smell, so you want to get them off the ground as soon as possible because once you go into flight they usually fall asleep."
Q: Do you have any advice for someone who wants to volunteer as a pilot?
"I would recommend that they go with someone on a mission. You should go with someone who has experience rescuing animals, so don't do it alone or with someone who has never done it before because it is a higher risk mission. Also allow more time to load the animals because it takes a lot longer than you think. Taking the dog out is the easy part."
Flying animals is just one of many ways to get involved in animal rescue. A big thank you to Michael and Pilots to the Rescue and all he does to help better the lives of animals.
For more information on animal transport and how to get involved, we recommend that you check out https://www.doobert.com/. Doobert is the leading online resource for animal rescue transport and automates the process for the volunteers.
Click here to read Tucson Dog Article: https://thetucsondog.com/pilots-to-the-rescue/
Story by Bella Wexler, Photos by "The Dogist"
None have the privilege of choosing the circumstances into which they are born. Oftentimes, animals bear the brunt end of this reality, especially when they are born with severe medical conditions or are being housed in an overcrowded shelter. The powerlessness of such animals and the people desperately trying to provide for them with limited resources inspired Michael Schneider to found Pilots to the Rescue. Since its inception in 2015, Pilots to the Rescue has expanded its reach as a 501c3 nonprofit organization dedicated to the transportation of animals in need to shelter locations and adopters who can sustain their care. Many innocent animals are born into unfortunate situations. But, thanks to Pilots to the Rescue, these furry friends are getting a second chance at the lives they deserve.
Pilots to the Rescue became a reality when Michael's dream was quite literally given wings. Michael has always devoted himself to volunteerism. As a father of three, he places a heavy commitment on family, including family pets. He took action merging his "love for aviation and animals" upon learning about the life and death battle many pets face in overcrowded shelters. Pilots to the Rescue owns and operates its own plane based in New Jersey with Michael as the chief pilot (although he prefers the title "Top Dog") along with many other pilot volunteers. The nonprofit occasionally connects with private planes who are willing to transport pets on their return flights, too. On average, Pilots to the Rescue conducts weekly to monthly flights of 10-20 pets. The entire process involves establishing relationships with the origin and destination shelters as well as coordinating with ground volunteers to have pets dropped off at the airplane site and picked up by destination shelter staff. Sometimes, ground transport volunteers are tasked with driving pets long distances. Their willingness to go the extra mile makes these volunteers "the real heroes," according to Michael.
Of course, Michael extends this humble gratitude towards all the people who have made Pilots to the Rescue possible, even when they have to improvise. The logistics can get particularly tricky when the nonprofit's plane requires maintenance. At one point, an alternator failure resulted in a moving van being required to drive the plane and its precious cargo of pets for ten hours until they arrived at the drop off location. After that trip, Michael and some other volunteers arrived home after 4:00 am. This is the level of dedication that Pilots to the Rescue devotes to the animals it helps. This is also why the Pilots to the Rescue mission relies so heavily on volunteers and donations. No one, including Michael, profits from the time and energy put into Pilots to the Rescue. It is a labor of love fueled by generosity.
Although the majority of Pilots to the Rescue's current flights are between New Jersey and North Carolina or other east coast locations, Michael is always looking for volunteers nationwide to help spread awareness and "expand our reach". Especially important are transport coordinators who work remotely by communicating with shelters and volunteer pilots to organize transportation plans. "They really help us connect the dots," says Michael. If you are interested in donating to the Pilots to the Rescue cause or signing up to volunteer, please visit their program website at www.pilotstotherescue.org.
Flying animals back and forth also lends an excellent opportunity to make friends, mostly of the four-legged variety. Pilots to the Rescue has transported cats, dogs and even a red wolf before. Jack the wolf was a member of a severely endangered species that finally began to rebound in population after Pilots to the Rescue transported Jack to a conservation facility. Besides this story, Michael says he's felt very impacted by the disabled pets he's flown. This includes one-eyed animals and a dog with cerebral palsy. It is also heartening to see how families light up when they are united with the perfect pet. After Pilots to the Rescue transported a basset hound puppy named Truitt to his forever home in New Jersey, his family started an Instagram page to document the rescue pup's life. Thanks to Pilots to the Rescue, Truitt got a home for the holidays and his human parents found the perfect canine companion.
Undeniably, our world is facing some difficult times. "This pandemic shifts our priorities," comments Michael. "Health, family, and love become our top interests which brings family pets to mind." The unconditional love of pets reminds us that, even when the ways of life to which we are accustomed come crashing down, "your pets will always be there for you". In times like these more than ever, Michael and everyone else at Pilots to the Rescue encourage people to really think about how they can support a cause which inspires them. There are unique ways to connect your passions and volunteering to better the lives of people and animals in need, claims Michael. "You just have to go for it".
Read the article on wework.com: Just another day spent rescuing puppies and sick kids
When WeWork analyst Daniel Baumel is OOO, he's not at the beach. He's piloting missions to help those in need.
Superpower on the Side is a series that features WeWork team members and how they spend their time when they're not at work.
Daniel Baumel flew a plane for the first time before he ever drove a car.
"It was definitely love at first flight," he says.
The Queens, New York native was drawn to aviation from an early age. His father would take him on day trips to the Jones Beach Air Show and the Smithsonian National Air and Space Museum whenever they visited Washington, D.C. In high school he paid for flying lessons by cleaning bathrooms and giving tennis lessons. His parents indulged his fantasies by sending him to a weeklong flying program in Florida. And when Baumel was 16, his flight instructor told him he was ready to take up the plane on his own.
"The first time you solo an airplane and you realize there's no one there with you—you're taking off and landing the thing by yourself—it's actually one of the best feelings I think I've had," says Baumel, 25, a contracts analyst at WeWork in New York City.
In college, Baumel attended the University of Oklahoma, lured by its acclaimed aviation program. By the end of his first semester, the aviation management major had earned his private pilot's license. When an arm injury from a moped accident prevented him from continuing on his path toward earning his commercial license, he got a job as a contracts administrator at Boeing, one of the world's largest aerospace companies, in 2015.
He spent the next two years living and working in Oklahoma City. Baumel loved his job, but ironically, working at an aerospace company didn't leave him much time to go flying on his own time. In 2017, he returned home to New York City and accepted a job at WeWork.
"I truly believe things happen for a reason," he says of not being able to pursue his original dream of becoming a commercial pilot. "I got a job with one of the biggest aerospace firms in the world. And that job of course led to what I do here at WeWork."
Being at a company that encourages its employees to pursue their personal interests gave Baumel the time and encouragement to renew his private pilot's license. He had read about pilots who volunteered for animal rescue missions and realized he could do the same; it was a way to give back and help him log flying time. He connected with Michael Schneider, founder of Pilots to the Rescue, a nonprofit that saves pets facing euthanasia by flying them to places where they can be adopted into loving homes.
"I am so grateful for this organization and Michael because they take a lot of the hard logistics out of it for me," says Baumel. "In terms of participating in these missions, he's made it so easy for me, and I'm really grateful to him for taking me under his wing, no pun intended."
Baumel completed his first animal rescue in April 2019, flying down to North Carolina with Schneider and a rep from the Ulster County American Society for the Prevention of Cruelty to Animals (ASPCA) to pick up three dogs and a litter of puppies that another volunteer pilot had flown in from South Carolina. Clare Cheyne, one of Baumel's WeWork colleagues, tagged along to film the trip for WeWork's social media.
On that first trip, Baumel experienced how rewarding the missions are. "There was a chocolate Lab that was roaming free on a leash," he recalls. "The ASPCA rep who was with us got motion sickness, and this dog saw her distress and put its head on her lap. I thought that was unbelievably adorable and shows that dogs have this empathy you can't really explain. It was a cool thing to see."
In March, Pilots to the Rescue partnered with another nonprofit called Angel Flight that provides free air transportation to medical patients. On that trip, Baumel and Schneider flew a two-year-old boy with Hirschsprung disease from his home in New Hampshire to his specialist in Boston.
"This two-year-old kid, who may or may not be aware of [his condition], just had the most infectious, bright outlook on things," says Baumel. "We landed in Boston, and we're waiting on the ambulette to come and pick him up and watching Star Wars, and he was just bouncing around, happy. If that smile is all I get in return, I'm good."
Many missions happen during the workweek, but Baumel is happy to devote vacation time to the cause. "My boss has been supportive, and the missions are worth the vacation days," he says. "It's been incredible—one of the most fulfilling things I've done in a long time."
If you want to help make more animal rescues possible, consider donating to Pilots to the Rescue.
On March 17th, Pilots To The Rescue founding pilot Michael Schneider had the honor of flying Reid LeBeau and his mom from their home to Boston Children's Hospital. Reid is a happy kid who loves school, super heroes, and dogs – the family has two, Kendall (a Lab) and Wyatt (a Sheltie). Reid and his family recently enjoyed a Make A Wish trip to Disney World and Universal.
But life isn't as simple as it should be for this adorable 3 year old. Reid was only 2 days old when they discovered he had Hirschsprungs Disease, a congenital condition missing nerve cells in the muscles of the baby's colon. His is a very rare case, with only 1 in 500,000 having this severe a form of the disease. As a result of the disease, Reid suffers from Short Bowel Syndrome. His colon is only 1′ long, much shorter than normal. That means Reid can eat, but because his colon is so short, there is no time for his body to absorb the nutrients he needs to survive and grow.
Eventually, doctors hope to do surgery to help Reid, but for now, he sleeps hooked up to machine every night. The sophisticated device does what his colon normally would – it helps him absorb the nutrients he needs. Every 8 weeks, Reid goes to Boston Children's Hospital so doctor's can manage and adjust the lifesaving machine. This time it was our turn to help out, flying Reid and his mom the 400+ miles from Delaware to Massachussets and another 400+ miles back home the following day.
We were thrilled to Team up with Angel Flight East and so fortunate to have met this amazing young man. Take care and be safe, Reid!
Want to help Pilots To The Rescue continue flying lifesaving flights like Reid's?  Find out more about how you can help today!
Read the Article on People.com: With Only 30 Red Wolves Left in the Wild, These 10 Newborn Pups Are Big News
South Salem, New York, is home to 10 new celebrities.
The New York Wolf Conservation Center (WCC) welcomed 10 rare red wolf pups on April 19. Charlotte gave birth to four pups and then momma wolf Veronica had her six pups just a few hours later. Now, about nine weeks after this busy day, all of the red wolf babies and their parents are doing well.
The center's staff, and the world, watched the baby boom happen over the WCC's webcams, which are set up in the wolves' secluded dens and enclosures to allow the animals their privacy and to limit human interaction.
While the WCC is dedicated to giving all of their wolf residents the best care, these red wolf pups especially need to be handled with kid gloves since there are likely less than 30 red wolves left in the wild.
This species has had a tumultuous history.
"Red wolves, native to the southeastern United States, were almost driven to extinction by intensive predator control programs and habitat loss. In 1980, the U.S. Fish and Wildlife Service (USFWS) captured the last wild red wolves (just 14 animals) and declared the species extinct in the wild," WCC reports.
In 1987, the USFWS gave the red wolf a second chance at survival in the wild, releasing several captive bred wolves into North Carolina's Alligator River National Wildlife Refuge as part of a federal reintroduction program under the Endangered Species Act. This effort was moving toward success, with the red wolf population up to 130 after 20 years of careful monitoring, and it showed signs of continuing to increase.
Unfortunately, the forward progress was stalled.
"Although the red wolf recovery program served as a model for successful recovery of wolves, political barriers and consistent mismanagement by the USFWS have seriously threatened the continued existence of this highly imperiled species. In 2014, the USFWS stopped reintroducing captive-born red wolves into the wild, ceased implementing the Red Wolf Adaptive Management Plan that limited hybridization with coyotes, and even began issuing kill permits to landowners," WCC explains.
Now, the WCC estimates there are less than 30 red wolves left in the wild, and they could be placed in captivity soon, leaving the species essentially extinct once again.
To keep the red wolf from disappearing from the planet altogether, WCC and 42 other facilities in the U.S. participate in the Red Wolf Species Survival Plan — a breeding and management program whose primary purpose is to support the reestablishment of red wolves in the wild through captive breeding, public education and research.
The WCC's new arrivals are an important boost to the base red wolf population. Since birth they have been closely monitored by the WCC, but with limited human interaction. To help keep these wolf pups and their parents as wild as possible, they are kept in a large wooded enclosure, only fed food they would encounter in the wild (like deer carcasses) and only come in contact with humans for necessary medical check-ups.
"Under Red Wolf Species Survival Plan protocols, captive born pups must be checked during certain milestones in their development. We checked the pups at 5 days old to determine the size of the litter and take stock of their health, and then again last week at their 2 month mark," WCC's executive director Maggie Howell tells PEOPLE.
The check-ups were performed by Veterinarian Dr Kim Khodakhah, who volunteers her time to WCC, and WCC Curator Rebecca Bose. According to Howell, none of this, not even the check-ups, would have been possible without Michael Schneider. Through his non-profit Pilots to the Rescue, Schneider volunteered his time and pilot skills to fly Jack the red wolf to WCC so the animal could father the new pups.
By keeping this species alive through excellent care and selective breeding, the WCC and the other facilities that are a part of the Red Wolf Species Survival Plan are keeping the hope alive that the red wolf can thrive in the wild once more. But for this to happen, the red wolf will need the support the government once provided the species.
The average rescue involves volunteer transportation through our network of local pilots but this rescue was different. Rocket and Jackie, the two dogs that were rescued, not only were adopted as a result of relocation but they also got to live in luxury during their flight. That's right! These lucky pups experienced a private jet rescue! This is the very first, and hopefully not the last time Pilots to the Rescue had a corporate airline volunteer their services. Imagine how many more rescues could happen if more companies like Turnberry Associates were to get involved.
Older dogs like Rocket and Jackie often find themselves in shelters where the likelihood of being adopted is very low. The Humane Society of Miami was the temporary home for these two pups and the team in Florida knew the only way to find the dogs a home was to get them out of the shelter. That is where their journey began.
The destination? Canada.
The Coastal K9 Shelter in Nova Scotia to be exact. It was quite the exciting journey for these dogs too. They endured multiple stops and stays at various boarding facilities along the way up the east coast. They even got to experience a flight in a private jet where they met David Blaine. A private flight and a celebrity? Yes! We believe our rescue dogs deserve the best of the best during transport. In fact, during the flight with Turnberry Associates, the dogs were able to wander freely instead of being in their cages. This flight took the dogs from Miami (Opa-lopa Executive Airport) to Teterboro, New Jersey.
After the dogs stepped off their luxurious jet, Transporters Without Borders were there to help them to their destination in Canada. Sylvia, Director and Coordinator of Transporters Without Borders, told us that Jackie was a bit shy on the trip but Rocket was full of energy. "He certainly doesn't seem to be 10 years old!", she says. Because the flight got in later than expected, the boarding facility that was going foster Rocket and Jackie, had already closed. Fortunately, our friends associated with the private jet (Brooke Soffer) knew a family in NYC that could foster the dogs. The Welch family gladly volunteered their Manhattan home for the two pups and thanks to them, Rocket and Jackie were one step closer to their destination.
The first stop after New York was the Eagle K9 Academy in Bethany, CT. Rocket and Jackie stayed the night under the care of the outstanding father and son team who run the academy. They have such a soft spot for rescue dogs that the son and his wife adopted Jackie!
From there, Rocket made his way further up the coast with the help of Yvette from the transportation team. He stayed the night at Shantel's Waggin' Tails just over the border and the next day made it to the rescue in Nova Scotia. He has recently been adopted by a loving family.
Everyone who was part of this journey from David Blaine and Turnberry Associates to Transporters without Borders and all of the boarding facilities deserves the biggest thanks. Without volunteering your services, this rescue may not have happened. The plane used to transport from Miami to New Jersey is owned by Turnberry Associates.
About Turnberry Associates:
Turnberry Associates is one of America's premier real estate development and property management companies. Founded more than 50 years ago, the company's diverse projects have revolutionized the living, working, leisure and shopping habits of millions of people across the country.
Turnberry Associates has to its credit the development of more than $8 billion in commercial and residential property including approximately 20 million square feet of retail space, more than 7,000 apartments and condominium units, 1.5 million square feet of class "A" office space and in excess of 3,000 hotel and resort rooms.  The company's diverse residential, hospitality, retail and commercial projects have received accolades for revolutionizing the living, working, leisure and shopping habits of millions of people across the country. From Turnberry Ocean Colony, Porto Vita, Aventura Mall, Turnberry Ocean Club, Fontainebleau Hotel in Miami Beach and Turnberry Isle Resort in Aventura to signature properties in Las Vegas, Washington D.C. and the Bahamas, Turnberry Associates is known for superb quality and impeccable service.
For some dogs like Baby and Captain, a trip to another shelter is just a day in the life.  For others, it is what their life depends on. On November 9th, 2016 pilots Billy and Shane helped transport 4 young, healthy dogs from a busy Texas shelter to the Rutland Humane Society in Vermont. Here, their chances for adoption are exponentially higher.
Their Story
For Barkley, the 43-pound black lab, and Wiggles the spotted black and white border collie mix, this flight gave them a chance at a long, happy life. Because these two pups are what the Texas shelter labels as "critical needs dogs", their time in the lone star state was quickly running out.
Tawana, from the Society for Companion Animals, informed us "[Barkley] kept getting passed up; big black dogs are hard to adopt in Texas". She has a point. In fact, there is even a name for this phenomenon. It is known as Black Dog Syndrome, or BDS. According to Petfinder.com, big black dogs spend four times the number of weeks on the site as other pets. This is also true in shelters across the country. Likely due to media portrayal and unclear facial features the aversion to black pets remains a problem.
The Flight
The pilots involved, Billy and Shane had the opportunity to help out these canines arrive safely at their destination and took it without a second thought. For them, helping someone out, dog or person, is always worth their time.
Beginning their journey in Farmingdale, NY, the pilots were off to the rescue. After flying to Westchester, they picked up Captain, Baby, Wiggles, and Barkley at Million Air.  Isn't it amazing what people will do for animals? The airport was even nice enough to waive any fees associated with the trip. Once the dogs finished gazing out the windows, their excitement transitioned into a long nap that lasted most of the flight. Finally, the dogs safely land in Vermont at the KRUT Rutland Airport, where the four pups were taken to the Humane Society.
Adoption Details
Now, you can find the dogs on Rutland Humane Society's adoption page. Each dog has a unique personality and loving nature. They have a lot of energy and are ready to put it to good use loving the family who chooses to adopt them.
Find out more about Captain, Barkley, Wiggles, and Baby here.
From the desolate country in southern Texas to the welcoming families in Vermont, countless dogs have been saved from euthanasia. In Texas, hundreds of stray dogs run loose close to the Mexico border. In these rural areas, specifically the Rio Grande Valley, the only real chance at survival is the Society for Companion Animals. This organization works to gather strays from smaller shelters so they can transport them to better populated parts of the country, thus increasing their chances for adoption.
The work isn't always glamorous but a simple gesture, like an excited tail wag, or a successful adoption makes it all worthwhile. Transporting dogs out of rural Texas requires early mornings and coordination between a no kill animal rescue that drives the animals to the airport, and the shelters involved. Sounds simple enough right? Well, it should be. Coordinating transport is one thing but other variables, like the weather, cannot be controlled.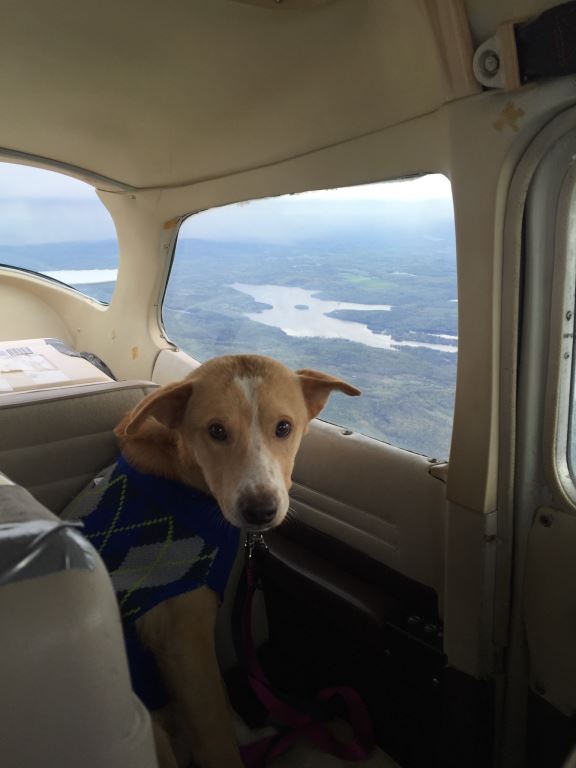 These non-profit shelters don't do it alone, however, and that is where Pilots to the Rescue comes in. With bad weather comes pilots who may not be able to fly from one shelter to the next. In the case of dogs Fred, Alice, Canella, and Gregory it was pilot Pavlo and copilot James who helped make the rescue magic happen.
With the additional help and hard work from Yvette of Transporters Without Borders, and Beth of Rutland Humane Society, these four dogs could made it out of Texas. Happily placed in their new homes, these dogs, once so close to death, are never without a reason to wag their tail.
Rescues, Prepare for Takeoff
Adoptable adorables get airborne with Pilots to the Rescue
by Suzan Colón
FRIDAY, SEPTEMBER 23, 2016